Bottle Depot Calgary
SkipTheDepot takes your bottles & cans to the Bottle Depot so you don't have to!
We pickup, count and e-Transfer you the cash. Keep it or choose where to donate. Simply download the app or visit app.skipthedepot.com
Try us 100% Risk Free and use promocode RECYCLEEASY for a FULL REFUND pickup.
What is SkipTheDepot
SkipTheDepot is an app which allows you to get your recycling picked up and processed without stepping foot into a bottle depot. Residents of Calgary can use SkipTheDepot to recycle their bottles, cans, old clothing, and electronics; but don't you will still receive your deposit for all of your bottles and cans. The SkipTheDepot app is completely free and is available on the App Store, Google Play, and online.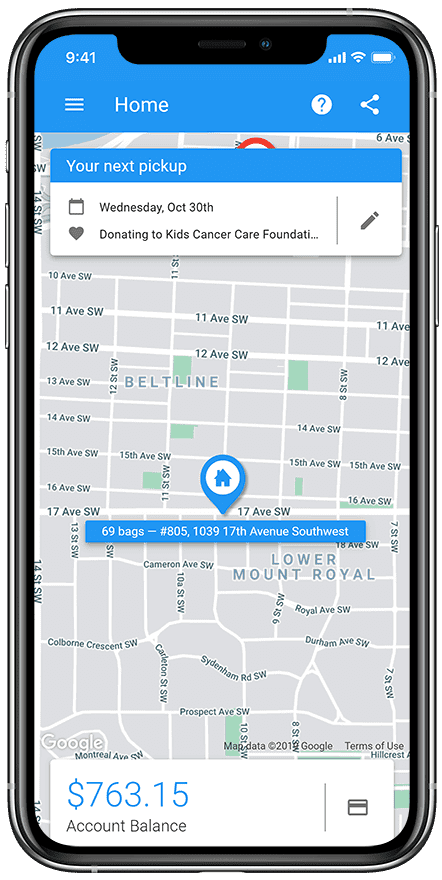 How Do I Get Started
If you have any bottles and cans laying around, simply put them in a large garbage bag to get started. When you're ready to bring your recyclables to the depot, simply follow these steps:
Download SkipTheDepot on Google Play, the App Store, or register online.
Enter your address and unit number if applicable.
Select a pickup date that works for you, as well as how often you want your recyclables picked up.
On the day of your pickup, simply write your customer ID on your bags and place them somewhere our drivers can access them. From there we will keep you posted on when the driver is coming, a confirmation picture of your bags, and a summary of what we recycled and your deposit!
Give Back To The Community
With SkipTheDepot you can donate to local charities and your community from within the app. To donate your next return all you need to do is select a donation preference during booking. After that, your next return will be donated to your charity of choice! You can even receive a tax receipt for your donation if the charity provides them.
Bottle Depot
Calgary
Commercial
Residential
Condo
Interested in driving for us?
Get in contact with us to start driving!