Bottle Depot Manchester
Start the Depot is now available in Manchester!
Mobile Bottle Depot (Manchester)
Are you about to load up your bottles and cans and head to the bottle depot in Manchester? Do you wish you could spend your time doing something else?
Welcome, friends, to the 21st century. SkipTheDepot is a free door-to-door bottle collection app available to the residents of Calgary, Alberta. It's like 'Uber', except it takes your empty bottles and cans to the bottle depot for you and e-Transfers the refund. Most importantly, the drivers take pictures of your bags and provide a receipt of what is collected and counted for your reference. Sounds sweet hey?
How It Works
Sign up at SkipTheDepot.com or download the app on the App Store or on Google Play.
Enter your address & pick a date for pickup.
Leave the bags outside or hand them off to the driver.
Cash out your refund via e-Transfer or donate to a local charity!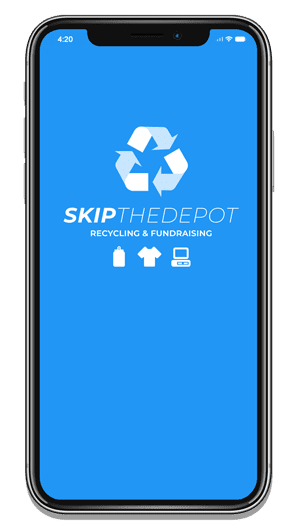 We pick up from homes, businesses, condos and apartments. What are you waiting for?
It gets even better! We'll also take your used clothing (for donation) and old electronics (to be recycled) free of charge.
4 reasons to use SkipTheDepot
Help charity - With over 200 charities and counting donate your recycling and clothing to a great cause without lifting a finger. We do the dirty work you get the tax receipt!
Real time updates - Our state-of-the-art software gives you real-time updates and notifications on when your pickup is coming, when it's being processed, and when your account is credited.
Easy bottle drives - Trouble finding volunteers with vehicles for bottle drives? We can run your bottle drive year-round! Become a Community Partner and reap the benefits of recurring donations without the hassle!
Save room - Stock piling your containers in your garage? Keep that place clean and let us take them back every time you make a bag or 2!
Information Manchester
Services Available
Residential - Bottles & cans, used clothes, and electronic waste
Commercial - Bottles & cans, used clothes, and electronic waste
Condo & Apartment - Bottles & cans, used clothes, and electronic waste
Fundraising - Charities, youth sport, teams, and organizations
Additional Information
Book your pick up day through the app and we'll stop by between 8am and 5pm to pick it and recycle it for you. If you need any more information feel free to call us at 403-476-3677 or email us at contact@skipthedepot.com
Bottle Depot
Calgary
Commercial
Residential
Condo
Interested in driving for us?
Get in contact with us to start driving!