Clothing Bins Near You: SkipTheDepot's Efforts to Limit Clothing Waste
Give your clothes a second life with SkipTheDepot!
Are you looking for a way to recycle your clothes and limit clothing waste? Look no further than SkipTheDepot's clothing bins and home pickup service! In this blog, we will explore SkipTheDepot's efforts to make clothing bins near you accessible, how we're making a difference, and answer some of the most frequently asked questions about clothing donation bins. As a recycling company, SkipTheDepot is taking action to reduce clothing waste by placing convenient clothing bins in Calgary and Edmonton.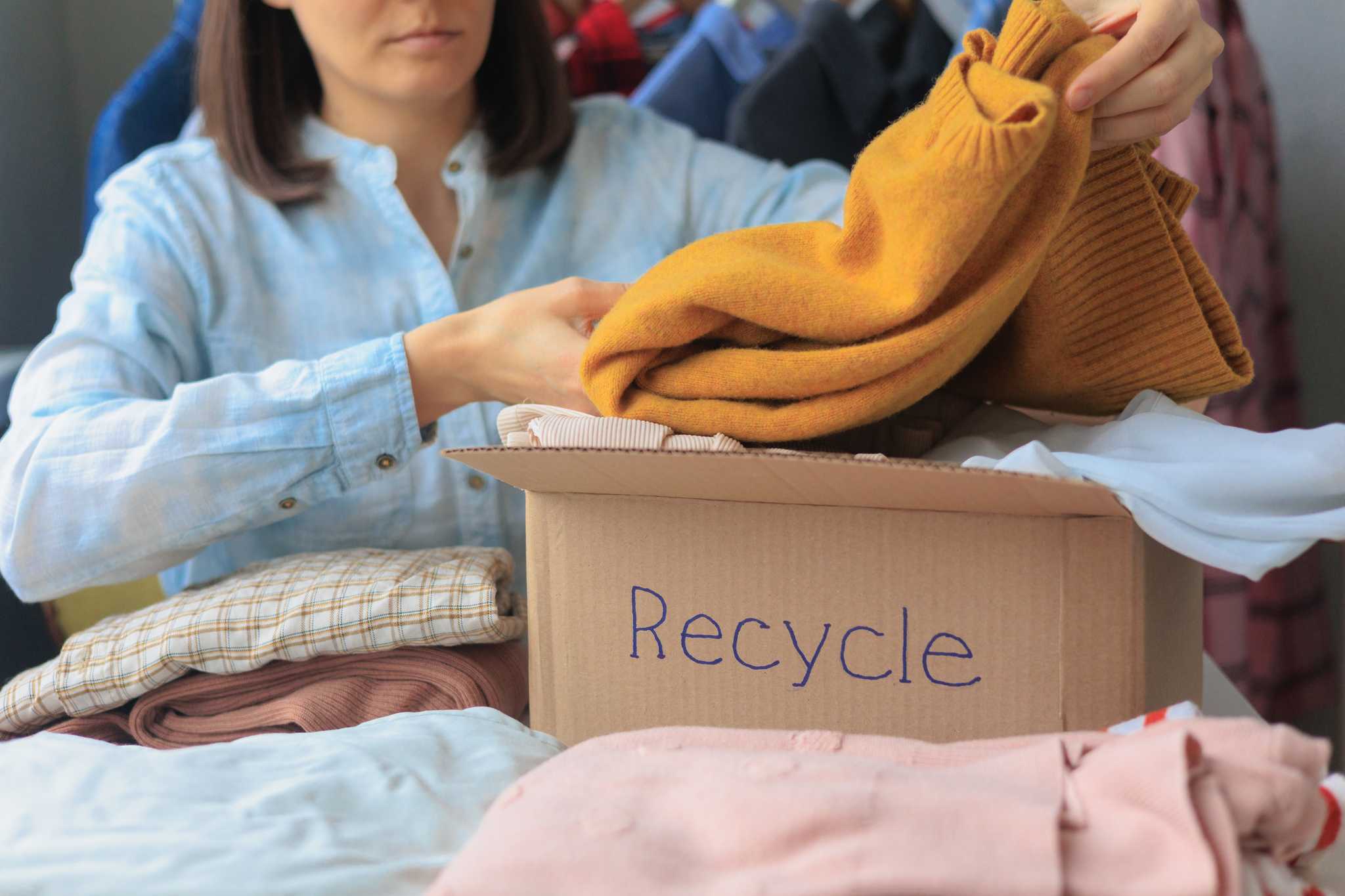 Why Clothing Recycling is Important:
According to WRW Canada, North America throws away 10 million tonnes of textile waste yearly in landfills. Textile waste takes up valuable landfill space and emits greenhouse gasses and methane gas. Recycling clothes using one of our clothing bins can help reduce waste and support local charities.
SkipTheDepot's Clothing Bins Near You:
SkipTheDepot's clothing bins are conveniently located for Calgarians and Edmontonians, making it easy for residents to donate their clothes. You can also use our pickup service if you need help!
What can you Donate?
We accept all types of clean clothing, including shoes, bedding/towels, and bags, regardless of condition. Our clothing recycling partner shares our vision to reduce waste, support local charities and our communities, and ensures that clothing is not sent to a landfill, minimizing the environmental impact of clothing waste.
Charities that Benefit from Clothing Donations:
SkipTheDepot also partners with charities that benefit from clothing donations. By donating your clothing, you can support The Mustard Seed, local food banks , AARCS, and other organizations providing essential services to the community, such as shelter, employment training, and food assistance.
Frequently Asked Questions About Clothing Donation Bins:
Q: What types of clothing can I donate?
A: We accept all types of clean clothing, including shoes, bedding/towels, and bags.
Q: Can I donate clothes that are torn or have holes?
A: Yes! We accept all types of clothing, regardless of condition. However, we ask that you ensure your clothes are clean and dry before depositing them in the bin.
Q: What happens to my clothing after I donate it?
A: After it's donated, we weigh and recycle the clothing. Unless the charity you donated to wants the clothing rather than recycling for a refund.
Q: Which charities am I supporting?
A: SkipTheDepot is partnered with over 1,700 local charities from Alberta. If you're booking a home collection you can select which charity you want your proceeds to be donated to. For more information, visit our website here: https://skipthedepot.com/locations.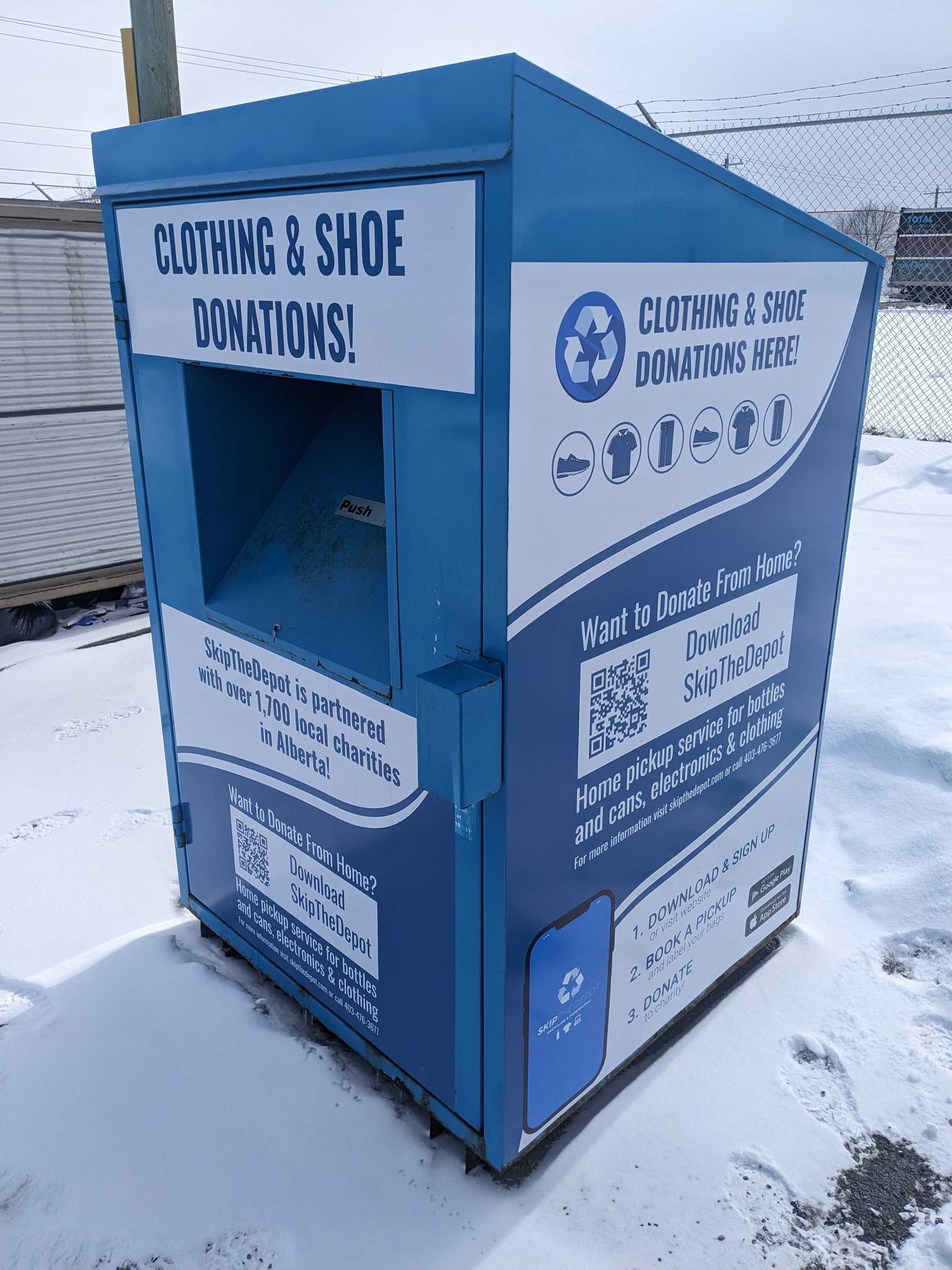 Find a Bin Today!
SkipTheDepot's clothing bins offer a convenient and accessible way to contribute to a sustainable future and support local charities by simply finding a clothing bin near you or using our pickup service. Book a pickup today on SkiptheDepot's website, The App store, or Google Play. Make a significant impact on reducing clothing waste and helping those in need. Remember, every small action counts towards creating a better future, so the next time you clean out your closet, consider using SkipTheDepot's clothing bins to donate.
Calgary
Edmonton
textile waste
support local
bottle depot
The Mustard Seed
Calgary Food Bank
AARCS
Alberta
clothing waste Clothing donation bin Calgary
donation bins Calgary near me
Clothing bins near you
airdrie
Interested in driving for us?
Get in contact with us to start driving!