Your Convenient Solution for Easy Recycling at Your Doorstep!
The advantages of using SkipTheDepot for recycling and how it can make the recycling process easier and more accessible, particularly in areas where traditional depots are less convenient.
Recycling is a crucial part of our efforts to protect the environment and reduce waste. However, recycling can often be less than convenient, leaving piles of bottles and cans cluttering our homes.
In this blog, we introduce you to a solution that makes recycling simpler, more convenient, and accessible, even in areas without a nearby bottle depot. SkipTheDepot, an innovative recycling app available to Albertans, that allows people to book recycling pickups for their bottles, electronics and clothing!
The Hassles of Traditional Bottle Depots 
Traditional bottle depots have been the go-to for recycling, but they come with their fair share of challenges. It can be a hassle and a mess transporting sticky bottles, with long lines and the wait to sort your recyclables. Bottle depots might not be around the corner for individuals in areas like Signal Hill, 17th Ave, or outside the city like Okotoks and Chestermere. What happens when you search 'free bottle depot near me' and there is nothing around the corner?
Introducing SkipTheDepot
SkipTheDepot is a new solution that's changing the recycling game. This innovative service offers a straightforward and accessible solution to recycling wherever you are. SkipTheDepot simplifies recycling in a few easy steps:
Sign up on the SkipTheDepot website or download our app on the App store, or Google Play.
Schedule Your Pickup: Enter your address, date, and any donation preferences. Use the directions/comments section to provide specific instructions for the driver, like "Call this number when arriving" or "Bags are alongside the fence.
Put your bags out: On the scheduled day, place your bags outside in a secure location by 8 am. Our driver will pick them up between 8 am and 5 pm.
Cash out your money: Your bags are labeled and taken to our counting facility. Once counted, your account is updated. Request an Interac e-Transfer to redeem your balance or donate to a charity of your choice. You'll be notified every step of the way!
The best part? On your first pickup, you can use the promo code 'RECYCLEEASY' for a 100% refund!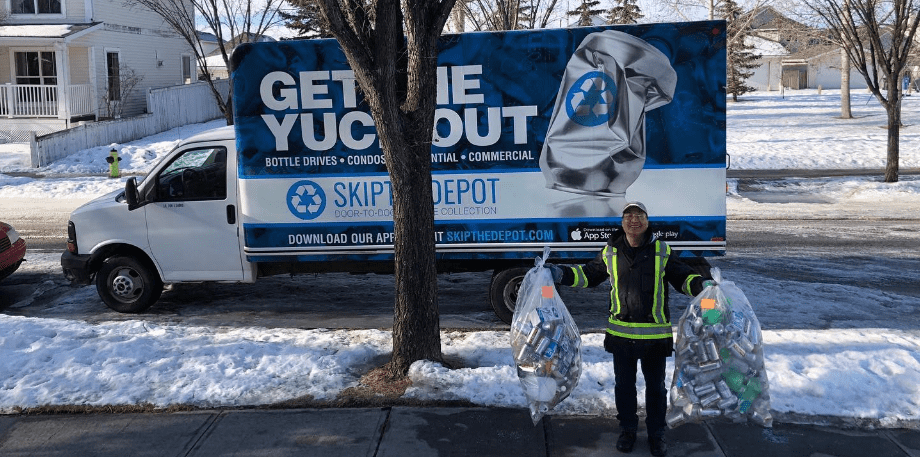 Environmental Impact
1. Lowering Carbon Emissions
One of the primary environmental benefits of SkipTheDepot is that it allows people to book home pickups for their recyclables, eliminating the need for individuals to drive to the bottle depot. This seemingly simple change has a significant impact on carbon emissions. The reduction in the number of vehicles on the road leads to less fuel consumption, which in turn results in reduced greenhouse gas emissions.
2. Effortless Recycling
SkipTheDepot is all about making recycling effortless. By streamlining the recycling process, this platform ensures that more recyclable materials are diverted from the landfill. When recycling is easy and convenient, people are more likely to participate, reducing the volume of waste that would otherwise end up in landfills.
3. Impressive Statistics
As of today, SkipTheDepot and its environmentally conscious customers have made a substantial positive impact:
Recycled Containers: Over 72,664,488 containers have been recycled, significantly reducing the need for the production of new materials and conserving valuable resources.
Waste Diversion: An impressive 3,720,422 kilograms of recyclable materials have been spared from landfills, preventing these materials from contributing to harmful environmental degradation.
Greenhouse Gas Reduction: The initiative has eliminated 7,070,255 kilograms of greenhouse gases from entering the atmosphere. These gases, known for their role in climate change, are responsible for global warming and its adverse effects.
Energy Conservation: SkipTheDepot has also saved a remarkable 24,197,275 kilowatt-hours (kWh) of energy. Reducing energy consumption plays a vital role in mitigating the impacts of resource depletion and greenhouse gas emissions.
Looking to track your own recycling footprint? SkipTheDepot has an environmental tracker so you can keep track of your own progress.
Frequently Asked Questions
How does SkipTheDepot handle bottle counts? 
Your bags are transported to the bottle depot for counting. The counts are counted and recorded. Once completed, the count is uploaded to your account.
How do I get my money? 
Once your refund is on your account, you can 'cash out' and receive e-transfers, which provide a convenient and fast way to receive your refund directly. 
What containers are accepted?
SkipTheDepot follows Alberta's deposit rules for beverage container recycling. The specific containers accepted and their deposit amounts will align with the regulations and requirements set by Alberta's recycling program.
More About SkipTheDepot
SkipTheDepot is more than a recycling service; it's a solution to recycling woes, especially in areas where traditional depots are inaccessible. It simplifies the process, reduces your carbon footprint, and lets you enjoy the convenience of recycling at your doorstep.
Ready to experience the ease of SkipTheDepot for yourself? Book a pickup today on SkiptheDepot's website, the App store, or Google Play.  Schedule your first pickup using the promo code 'RECYCLEEASY.' Help us make recycling a breeze, even in areas where bottle depots are scarce.
Whether in Signal Hill, downtown areas like 17th Ave, or outside of the city like Okotoks and Chestermere, SkipTheDepot is here to simplify your recycling journey!
Don't just take our word for it. Numerous customers have shared their positive experiences with SkipTheDepot. They appreciate this service's environmental impact, convenience, and reliability, especially in areas with limited access to traditional depots.
Bottle recycling
bottles and cans
Alberta
Calgary
Edmonton
yyc
yeg
bottle depot
home recycling pickup
home pickup
bottle depot near me
Canmore
Banff
Lethbridge
bottle depot near you
free bottle depot
free bottle depot near me
Interested in driving for us?
Get in contact with us to start driving!